Because We Can Can Can!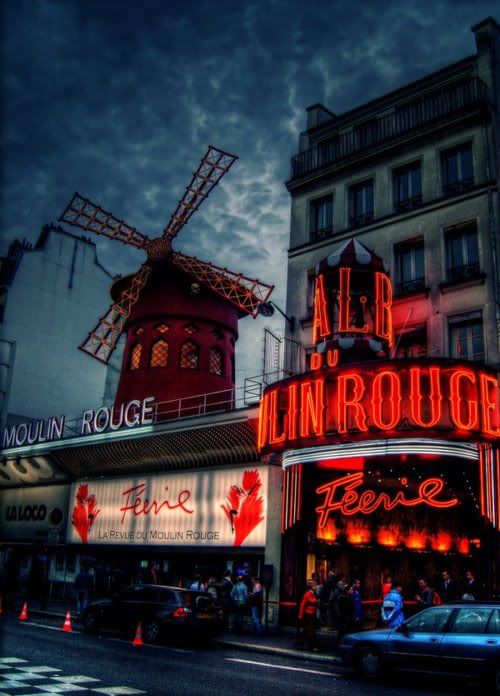 Since today I didn't have a whole lot of plans, I decided to watch some movies that were on my watchlist for what seems like forever. Even though
Moulin Rouge!
was released in 2001 I sort of avoided watching it on purpose, because it seemed very Coyote Ugly-esque, but as it turned out, it's far from that, and I quite enjoyed it.
I'll try and not give too much away, as spoilers are never fun. For me, Moulin Rouge! is what you'd get if you'd put
The Wizard of Oz
and
Rocky Horror Picture Show
together - it's the kind of movie that you either love or hate, and I really loved it.
Sure, it's cheesy and full of cliches, but it's definitely enjoyable as well. I liked how it had some classic elements to it - like what you'd normally see in a play - yet it was contemporary at the same time. The latter was probably because of the pop/rock soundtrack (did I mention I'm a sucker for musicals? - Hairspray, Wicked, Spring Awakening - you name it). My favorite song:
Sparkling Diamonds
a medley of Diamonds are a Girl's Best Friend and Material Girl.
As for the story, it's pretty much your classic impossible love story: Paris, the year - 1899;
Nicole Kidman
plays a Moulin Rouge courtesan, Satine, in love with Christian (
Ewan McGregor
) - a struggling English poet.
Set in the Montmartre Quarter in Paris, the movie offers some pretty spectacular backdrops (however the movie was not filmed in Paris, but at FOX studios in Sydney ).
All in all, Moulin Rouge! strongly deserved it's 8 Oscar nominations & 2 wins. If you haven't seen it until now, you should definitely add it to your to do list.
ewan mcgregor , moulin rouge , movie , nicole kidman , review